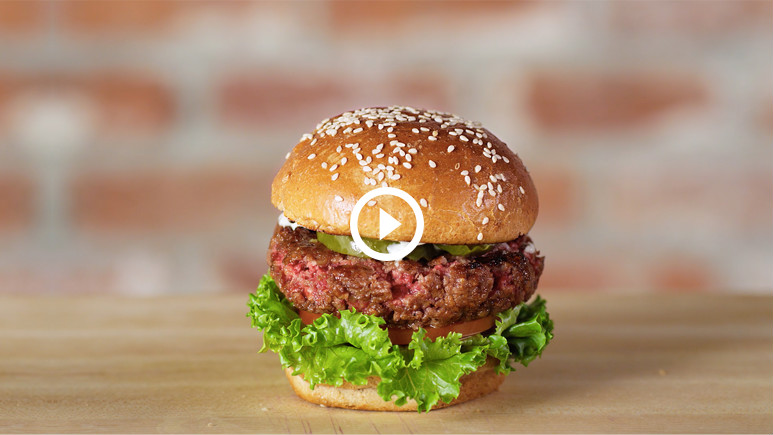 Hello Everyone!  Have you thought of where technology will take food of the future…including the beloved hamburger?
Sounds different from our regular postings, right?  Well, it's been several months since our last post (sorry about that!).  We've been so busy with client work, designing our new website, and adding a new service-line called Digital Marketing Optimization (more about that in a few weeks).  So, back to today's post…While doing some online research this morning, we stumbled across a very interesting story on Bloomberg, presented by Sam Grobart titled "Making a Steak Without Cows".  This is really a brief narrative on the future of food…including the hamburger.
One company focuses on growing/producing insect-based protein is called Entomo Farms, based here in the U.S.
The other company highlighted in this story is also based here in the U.S., and is located in Silicon Valley (the one producing this revolutionary plant-based hamburger) is called Impossible Foods …check them both out!
Here is a link to an interesting follow-up documentary on the founder of Impossible Foods,  Dr. Pat Brown, and the processes he uses to produce this plant-based hamburger.
We thought this was fascinating and eye-opening, so we wanted to share it with not only our family and friends, but also with our readers as well.  My only question is how does our body assimilate this processed plant-based burger?  If all is well regarding digestion, then I am looking forward to trying it.  We hope you find this story to be informative and of interest even though it is not on-point with our traditional posts.  Enjoy!
GMS BUSINESS CONSULTING – provides Accounting Services, Business Development Services, Business Optimization Services, and Digital Marketing Services to lawyers and business professionals to help them successfully organize, grow and operate their businesses more effectively and efficiently.  We do NOT provide investment advice.  Contact us if you are interested in learning more about our services, and in particular, about our 3-Step-Solution to help you strategically focus and tactically grow your business.  We would welcome the opportunity to speak with you.
info@gmsbusinessconsulting.com
707-218-3135
John 14:15