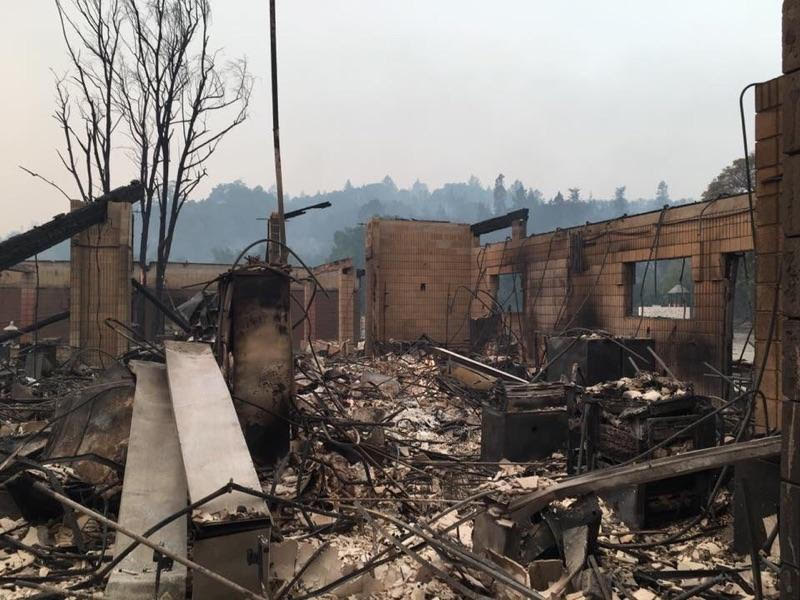 Hello Dear Readers,  As we now begin the second week of wildfires here in Northern California, our hearts, thoughts, and prayers go out to the victims and their families, business owners and anyone else who was adversely affected by this disaster that came on so quickly in the middle of the night on October 9th.   Also, our hearts, thoughts, prayers and indescribable gratitude go out to the heroes in this disaster…the Firemen/Firefighters, the Sheriffs, the Highway Patrol, the city Police Departments, the evacuation centers and all the volunteers who were willing to sacrifice their time, their efforts and in many cases… their lives in the service of others.  Thank you…
One tragedy that was close to our hearts was a local K-12 Academy – RAA (Redwood Adventist Academy) – located in Santa Rosa off Mark West Springs Road, was completely destroyed in the Santa Rosa wildfires last Monday.  This Academy was established in 1931, and it has produced some of the most wonderful human beings, and some of the best educated children in the state with high moral characters.  Pretty impressive in this world today!  This Academy also hosted an on-site 8 acre farm and farm stand (that was open to serve the public), producing "better than organic" heirloom vegetables planted by/nurtured by/harvested by the students of RAA under the leadership of our CFO (Chief Farming Officer), Joby Oft.  They served the community, fellow churches, local restaurants and anyone else  interested in purchasing locally grown, wholesome food…right from the farm on the school campus.  Within minutes, the school and the farm/farm stand were gone.  My wife and I serve on both the Redwood Academy's School Board and Foundation Board to support high quality Christian education that is affordable.  This news was devastating to the students, staff, parents, alumni, the local community, and to us.  What a terrible loss.
That said, the light is at the end of the tunnel, in that eventually the Redwood Adventist Academy/ farm/ and farm stand will be rebuilt, with God's amazing grace.  Yes, insurance will cover some of the costs but not all.  So that is why we're doing this post this evening… we're reaching out to you and others to help rebuild Redwood Academy.  We need your help to expedite this effort, and with your support we can do it.  To make a donation to rebuild RAA, simply go to: https://www.purecharity.com/redwood-adventist-academy
Thank you in advance for your support, your prayers and for any donations you may be inspired to make…God Bless.
GMS BUSINESS CONSULTING – provides lawyers and business professionals with Accounting Services, Business Development Services, Business Optimization Services and Digital Marketing Services to help business professionals successfully organize, grow and operate their businesses more effectively and efficiently.  We do NOT provide investment advice.  Contact Us  if you are interested in learning more about our services, and in particular about M.A.P.(our 3-phase business development solution), designed to help you strategically focus and tactically grow your business.  We would welcome the opportunity to speak with you.
info@gmsbusinessconsulting.com
707-218-3135
John 14:15